About Us

What Drives Our Communities
At Pacifica Senior Living, our mission is to do what we love and what we truly believe in: providing compassionate, personalized care services with dignity and respect. As we approach 80 communities and find ourselves at No. 20 on Argentum's list of 150 Largest Providers, we are humbled to have the opportunity to serve the many thousands of residents who have chosen to make our communities their home. We warmly welcome each resident to our Pacifica family, and we view it as a tremendous honor that we can meet their needs – ranging from Independent Living and Assisted Living to Respite Care.
As we continue to press forward with our battle against COVID-19, we remain focused on elevating the quality of the lives of each of our residents while striving to protect them from this virus, to which they are particularly vulnerable. We will continue to press on, remaining resolute in our efforts to expand our ability to meet the needs of even more seniors, while remaining true to our mission and grateful for the many lives we have the privilege of serving.
Our San Dimas Neighborhood

An Ideal Location
Located just outside of Los Angeles, living in San Dimas, California puts seemingly endless restaurants and points of interest right at residents' fingertips when they call West Park Senior Living home. From sushi at Show Sushi to tacos at Zendejas Mexican, our residents will find cuisine from around the world at nearby eateries in the San Dimas, California vicinity. Other favorites include Klatch Coffee, El Pollo Loco, and Donut Club.
Want to go shopping? San Dimas Station and San Dimas Shopping Center Plaza offer dozens of supercenters and local shops, including Target, Walmart and World Market. The area also offers a variety of medical services at its various hospitals and health care centers, including the Kaiser Permanente San Dimas Medical Offices and the San Dimas Community Hospital. 
Families are welcome to learn more about the local amenities, shops, and restaurants in San Dimas, California by chatting with us below.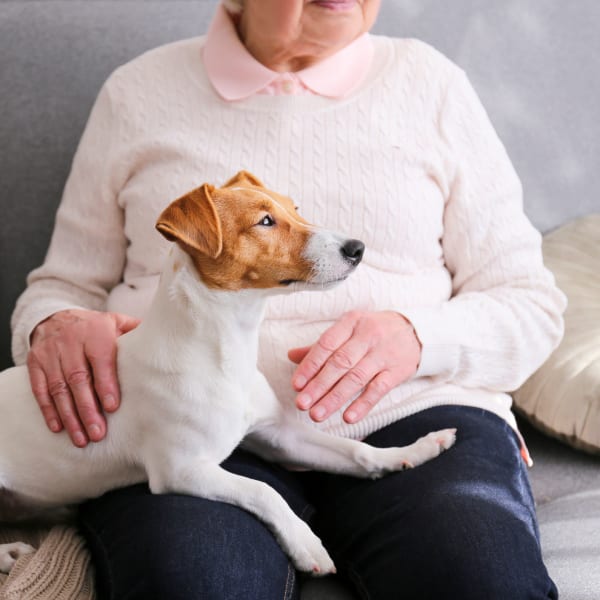 Furry Friends Welcome

Bring Your Pets!
Our San Dimas, California community is pet-friendly. We welcome cats and dogs like family, creating a valuable opportunity for our residents to live alongside their furry friends with total peace of mind. 
Restrictions apply. Please contact us for more information about our pet policy and guidelines.
Everyday Activities

Choose Your Own Adventure
At West Park Senior Living, each day is a new opportunity for our residents to live each day by their own design. With individual and group activities available, our residents have endless chances to enjoy relaxation time alone or stimulating opportunities with friends. Daily opportunities at West Park Senior Living include:
Fitness classes
Trips to nearby points of interest
Arts and crafts opportunities
Musical events and sing-alongs
Movie screenings and board games
We invite families to tour our community to learn more about the vibrant life enrichment programming we offer at West Park Senior Living. To schedule a tour, call us today.